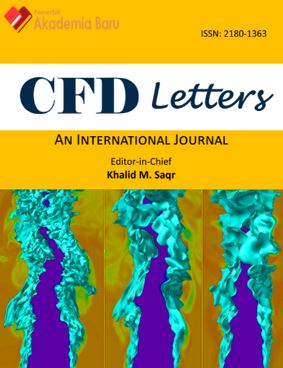 ISSN (Online) : 2180-1363
Frequency : Continuous
Editor-in-Chief : Dr. Khalid M. Saqr (E-mail)
Technical Editor : Wan Mohd Arif Aziz Japar (E-mail)
View full editorial board
Aims and Scope : CFD Letters publishes as rapidly as possible manuscripts of high quality which addresses eminent topics of computational fluid dynamics theory and applications. Being an international, peer-reviewed, online and open access journal, CFD Letters presents a world-wide forum for the dissemination of knowledge among engineers, scientists and mathematicians working in the field of computational fluid mechanics.
Article of the month
Comparative study of upwind and averaging schemes with artificial dissipation for numerical solution for quasi-one-dimensional supersonic flow
Tohid Adibi, Aria Amrikachi
TUTORIALS
What is CFD Letters - TutorialArticle StructureSubmission FormTemplateArticle submission
Tutorials
is a new section of CFD Letters. Reproducibility is the key of propagating research results. Hence, it is vital to provide a dissemination platform for publishing CFD example cases with in-depth tutorials to enrich the community with reproducible research.
SEE MORE
File Preparation
• All files, in native format, must be placed in one directory and converted to ZIP file
• The ZIP file must be named as CORRESPONDING_AUTHOR_LASTNAME.ZIP
• The ZIP file must be uploaded to a public file repository and the link must be provided in the abstract and in the submission form.
SEE MORE
Author is required to use this template in preparing the manuscript
DOWNLOAD TEMPLATE
Please submit the completed manuscript together with the submission form to Section Editor: Dr. Karim Shalash (Karim_shalash@hotmail.com)

Types of Manuscript
TUTORIAL
Short communications describe, analyze and evaluate new CFD concepts, theories, methodologies, or modifications of existing methodologies. See more
EDITORIALS
Opinions, notes and critical views written by eminent international figures and experts in CFD, mainly upon invitation by the Editor-in-Chief or one of the editorial board members of the journal.
LETTERS
Short communications describe, analyze and evaluate new CFD concepts, theories, methodologies, or modifications of existing methodologies.
SHORT RESEARCH ARTICLES
Articles of reduced length, describing in-depth qualitative results obtained from a recent research with an emphasis on the interface between methods and applications.
SPECIAL ISSUES
Papers submitted to the special issues announced by CFD Letters should be assigned to this section.
Submit your manuscript
Manuscripts submitted to the Akademia Baru journals must be original work that has not been published or under consideration for publication elsewhere. The manuscript must be written in good English or Malay and should be no more than 20 pages in length inclusive of tables, figures and illustrations. All submissions will be peer reviewed.

Submit your paper
Alternatively, you may submit your paper to the following email: journal2017cfdl@gmail.com; azwadi@akademiabaru.com
Guide for Authors
Manuscripts submitted must be original work that has not been published.
Article Processing Charges
All articles published in this journal are open access and freely available online, free to download, share and re-use. To cover the cost of providing open access, Akademia Baru charges an Article Processing Charge (APC) once an article is accepted for publication. There are no charges for rejected articles, no submission charges, and no surcharges based on the length of an article, tables, figures or supplementary data.
The APC charged for accepted articles;
USD300 (International Corresponding Author) or RM850 (Malaysian Corresponding Author)
Guide for reviewers
The reviewers of the journal assist the editors in making editorial decisions and through the editorial communications; the reviewers assist the authors in improving the manuscript.
Ethics in Publishing
Authors should report their results clearly, honestly, and without fabrication, falsification or inappropriate data manipulation. Authors should provide sufficient details on the method and references to allow others to replicate the work.
View More