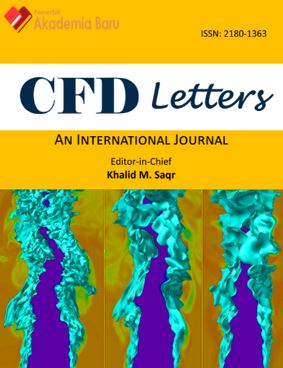 ISSN (Online) : 2180-1363
Frequency : Continuous
Editor-in-Chief : Dr. Khalid M. Saqr (E-mail)
Technical Editor : Wan Mohd Arif Aziz Japar (E-mail)
View full editorial board
Aims and Scope : CFD Letters publishes as rapidly as possible manuscripts of high quality which addresses eminent topics of computational fluid dynamics theory and applications. Being an international, peer-reviewed, online and open access journal, CFD Letters presents a world-wide forum for the dissemination of knowledge among engineers, scientists and mathematicians working in the field of computational fluid mechanics.
Article of the month
Comparative study of upwind and averaging schemes with artificial dissipation for numerical solution for quasi-one-dimensional supersonic flow
Tohid Adibi, Aria Amrikachi
TUTORIALS
What is CFD Letters - TutorialArticle StructureSubmission FormTemplateArticle submission
Tutorials
is a new section of CFD Letters. Reproducibility is the key of propagating research results. Hence, it is vital to provide a dissemination platform for publishing CFD example cases with in-depth tutorials to enrich the community with reproducible research.
SEE MORE
File Preparation
• All files, in native format, must be placed in one directory and converted to ZIP file
• The ZIP file must be named as CORRESPONDING_AUTHOR_LASTNAME.ZIP
• The ZIP file must be uploaded to a public file repository and the link must be provided in the abstract and in the submission form.
SEE MORE
Author is required to use this template in preparing the manuscript
DOWNLOAD TEMPLATE
Please submit the completed manuscript together with the submission form to Section Editor: Dr. Karim Shalash (Karim_shalash@hotmail.com)