Antimicrobial Activity of Kaempferia Galanga Rhizome against Biofilm of Vibrio Cholerae Outbreak from Limbang Sarawak
Keywords:
K. galangal rhizome, vibrio cholerae, antimicrobial activity, minimum biofilm eradication concentration, biofilm
Abstract
Kaempferia galangal rhizome is one of the traditional medicinal plant species in Zingiberaceae family and well known as "cekur" in Borneo. Rapid emergence of multidrug resistance of V. cholerae biofilm has increased the failure of antibiotic treatment in recent years. This research was designed to demonstrate the antimicrobial activity of K. galangal rhizome extract against twenty six (n=26) V. cholera biofilm which were isolated from outbreak in Limbang, Sarawak in 2016. K. galangal rhizome was analyzed by methanol extraction and tested against biofilm of V. cholerae. The susceptibility of V. cholerae towards K. galangal rhizome was evaluated using disk diffusion method which showed a maximum zone of inhibition of 12.0 mm at 1000 mg/mL concentration. As a result, the MBEC50 of V. cholerae was between 125 mg/mL to 250 mg/mL while more than 90% biofilm eradication (MBEC90) was achieved by 500 mg/mL extract concentration. Extract-treated cell showed change in the morphology of V. cholerae by destruction of cell wall. K. galangal rhizome extract acts as a potent antibiofilm agent with dual actions by preventing and eradicating the biofilm of V. cholerae.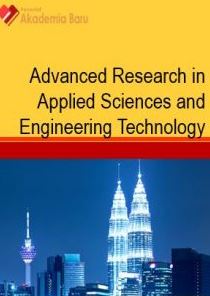 Downloads
How to Cite
Nillian, E. ., Mathialagan, M. ., Benjamin, P. G. ., Lihan, S. ., & Bebey, . G. . (2020). Antimicrobial Activity of Kaempferia Galanga Rhizome against Biofilm of Vibrio Cholerae Outbreak from Limbang Sarawak . Journal of Advanced Research in Applied Sciences and Engineering Technology, 12(1), 24–31. Retrieved from https://www.akademiabaru.com/submit/index.php/araset/article/view/1967