Biomass-Derived Activated Carbon: A Viable Material for Remediation of pb2+ and 2, 4-Dichlorophenol (2, 4 DCP) through Adsorption
Keywords:
Activated carbon, coconut shell, surface acidity, adsorption
Abstract
Carbon has been one of the magnificent elements which have revolutionized material science. From carbon we obtain the best porous absorber (activated carbon) with excellent properties for large spectrum of industrial applications. Activated Carbon (AC) is the common term used for a group of absorbing substances of crystalline form, having a large internal pore structures that make the carbon more absorbent. This paper presents the surface properties of coconut shell derived-activated carbon and its sorptive applications. Some of the physic-chemical properties of the carbon were characterized in terms of porosity having value of 0.13, iodine number of 334.23 mg/g, surface area of 327.52 m2/g and surface acidity value of 0.31 mmol H+/g. The coconut shell activated carbon was subjected to various treatment conditions of (40oC, 60oC, 80oC) temperatures, (30 minutes, 1 hour, 2 hours) treatment time and (1 M, 2 M, 3 M) concentrations of HNO3. Surface acidity was determined on each of the treated activated carbon to establish the optimum condition of the acidic treatment. The highest surface acidity value of 3.06 mmol H+/g was obtained at treatment condition of 80oC, 2 hours and using 3 M concentration of the acid while the lowest value of 0.89 mmol H+/g occurs at 40oC, 2 hours and 1 M concentration. The adsorbent with the highest surface acidity was used to check the effect of the acidic treatment on the absorption of lead Pb and 2,4-Dichlorophenol (2,4-DCP).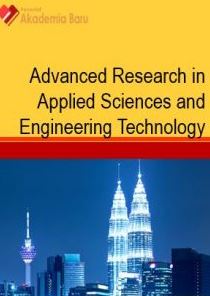 Downloads
How to Cite
Luther Emmanuel, J., Mustapha Omenesa Idris, Abdulmutalib Omeiza Usman, Quasim Musa, Abdulrahman Itopa Suleiman, & Ponfa Sambo. (2021). Biomass-Derived Activated Carbon: A Viable Material for Remediation of pb2+ and 2, 4-Dichlorophenol (2, 4 DCP) through Adsorption. Journal of Advanced Research in Applied Sciences and Engineering Technology, 25(1), 37–45. https://doi.org/10.37934/araset.25.1.3745