Water Distribution and Non-Revenue Water Management Scenario in Asian countries: Malaysian Perspective
Keywords:
Water life cycle cost, water distribution, non-revenue water crisis, cost recovery
Abstract
It is being estimated by the World Bank that the operations and maintenance cost for the basic water and sanitation services (WASH) is expected to increase from 4 to 30 Billion USD per year by 2030 which substantially surpass the capital cost of basic WASH services. Still the local and global funding prioritize the capital investment in the current water infrastructure resulting in the lack or no funding for the operation and maintenance mandates especially in the developing countries of Asia due to insufficient revenue generated from consumers to cover the operational and maintenance costs. This has subsequently caused an adverse impact on the financial utility and services rendered to consumers. Many water utilities are facing difficulties with high amount of Non-Revenue Water (NRW) for the past few years. Water utilities are being forced to consider implementing an efficient NRW reduction strategy due to the rapid population growth and industrialization raise the water demand and put pressure on the water resources. Public water utilities are expected to apprehend the demand by increasing the capacity. On the other hand, to solve the increasing water demand it is not enough to just increase the capacity and production. Combine both Non-Revenue Water and the increasing of capacity is more efficient rather than a single approach plan. In Malaysia, there is 35% of non-revenue water loss and mostly are caused by pipe leakages and breakage. This paper aims to assess the NRW reduction strategies by analysing the factors affecting, and challenges faced by Malaysian water utilities in reducing NRW rates. This paper also evaluates the public perception on Non-Revenue water management to establish a way to develop public participation in Non-Revenue Water reduction program. Finding shows that public participation in Non-Revenue Water reduction management in Malaysia remains lacking as many respondents indicate a lack of knowledge and awareness in non-revenue water. Participation from the community to achieve a sustainable water source management is important to enhance Malaysia's water safety. The paper will provide an insight to the water distribution in the Southeast Asian countries and will especially emphasize on the crisis of non-revenue water its implications and possible measures and strategies to improve the situation.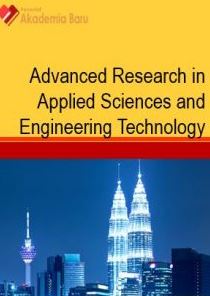 Downloads
How to Cite
Biothania Niigata Putri, Imran Ahmad, & Norhayati Abdullah. (2021). Water Distribution and Non-Revenue Water Management Scenario in Asian countries: Malaysian Perspective. Journal of Advanced Research in Applied Sciences and Engineering Technology, 25(1), 94–105. https://doi.org/10.37934/araset.25.1.94105