Investigation of Ultrasonic-Assisted Drilling (UAD) Parameters For Hole Making Of Ti-6Al-4V Using Taguchi Method
Keywords:
Ti-6Al-4V, Ultrasonic Assisted Drilling (UAD), Hole Accuracy, Surface Roughness, Taguchi
Abstract
Ti-6Al-4V is widely used in high-tech industries due to its lightweight, high strength and corrosion resistance. Nevertheless, machining Ti-6Al-4V is very challenging given its low thermal conductivity. Ultrasonic Assisted Drilling (UAD) is one of the best machining techniques. In the manufacturing industry, hole-making is the final step before the end product is produced. The selection of parameters is crucial in obtaining accurate hole accuracy and a smooth surface finish. Cutting speed, feed rate, frequency, amplitude and tool material are important parameters in machining using UAD. Therefore, the optimisation of the combination of each of these parameters is pertinent in obtaining the best machining results. Screening parameters are widely used in optimising machining parameters. Taguchi is a statistical method that assists in optimising the experiments to be conducted. The expected findings from this study will facilitate the removal of insignificant parameters that could be used before proceeding to the actual runs. The impact of this study is to reduce costs, save time, as well as employ sustainable machining techniques.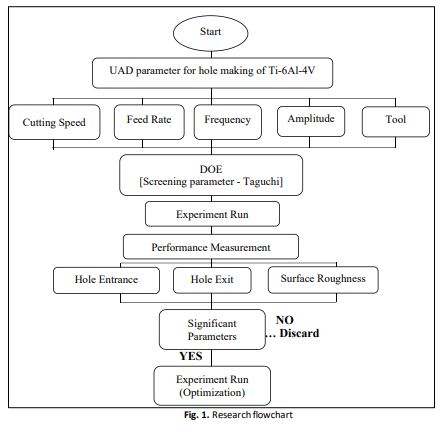 Downloads
How to Cite
Ali Hussin, A. H., Sarip, S., & Abu Husain, M. K. (2022). Investigation of Ultrasonic-Assisted Drilling (UAD) Parameters For Hole Making Of Ti-6Al-4V Using Taguchi Method. Journal of Advanced Research in Applied Sciences and Engineering Technology, 27(1), 45–61. https://doi.org/10.37934/araset.27.1.4561
صندلی اداری
سرور مجازی ایران
Decentralized Exchange