A Comparative Study on Zerumbone Concentration, Radical Scavenging Activity and Total Phenolic Content of Zingiber Zerumbet Extracted via Green and Conventional Extraction
Keywords:
Subcritical water extraction, Zingiber Zerumbet, zerumbone, radical scavenging activity, total phenolic content
Abstract
Extraction is crucial for herbal extraction to ensure high quality of bioactive compounds from natural herbs. In the current work, Zingiber Zerumbet was extracted via subcritical water extraction (SWE) and is compared with the conventional solvent extraction, Soxhlet. The quality of the extract was investigated in terms of zerumbone concentration, radical scavenging activity (RSA) and total phenolic content (TPC). For zerumbone concentration, extraction via SWE gave 19.82 ±0.004 mg/g as compared with Soxhlet; 28.51±0.079 mg/g. However, the extraction time required for SWE to yield such concentration only required 40 minutes instead of Soxhlet which took 480 minutes. The same trend was recorded for RSA, which yielded 60.70±0.070% inhibition for SWE and 68.81±0.024% inhibition from Soxhlet extraction. In contrast to TPC, SWE recorded a higher response than Soxhlet extraction, which was 19.19±0.003 mgGAE/g DW, while Soxhlet; 8.30±0.019 mgGAE/g DW. Therefore, the SWE method is more favorable for obtaining a higher value of TPC, slightly good in antioxidant properties but lower zerumbone concentration value than organic solvent extraction. However, the reduced extraction time was almost 12 times quicker for SWE when compared with Soxhlet extraction. Overall, SWE is a promising alternative environmentally friendly since it only uses water as solvent and is comparable to the conventional method.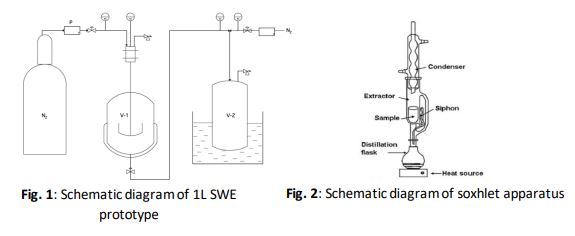 Downloads
How to Cite
Izzati Mohamad Abdul Wahab, Mariam Firdhaus Mad Nordin, Nabilah Zaini, Kamyar Shameli, Siti Nur Khairunisa Mohd Amir, Nurul 'Uyun Ahmad, & Norrashidah Mokhtar. (2022). A Comparative Study on Zerumbone Concentration, Radical Scavenging Activity and Total Phenolic Content of Zingiber Zerumbet Extracted via Green and Conventional Extraction. Journal of Advanced Research in Applied Sciences and Engineering Technology, 27(1), 1–8. https://doi.org/10.37934/araset.27.1.18
صندلی اداری
سرور مجازی ایران
Decentralized Exchange