Biosynthesis of Silver Nanoparticles Using Juglans Regia Green Husk (Walnut) Water Extract and evaluation Antibacterial activity
Keywords:
Silver nanoparticles, biosynthesis, Juglan sregia, green husk, antimicrobial activity
Abstract
Biosynthesis of Ag-NPs at room temperature by using Juglans regia (J. regia) green husk extract which acts as reductant and stabilizer, simultaneously. The Ag/J. regia were characterized by using UV–visible, zeta potential, TEM, and AFM. Formation of Ag/ J. regia was determined by UV–vis spectroscopy, where absorption maxima surface plasmon at 400-460 nm. The zeta potential analysis indicated that J. regia green husk extract was negative and increasing in Ag/ J. regia. TEM images show the mean particle size was 31.37 nm with the standard deviation of 7.1 nm, where confirm by AFM measurements. The XRD study indicates the crystalline nature of the Ag-NPs. The antibacterial activity of Ag-NPs was investigated against Gram-positive and Gram-negative bacteria by the disc diffusion method were found to have high antibacterial activity. These results show that Ag-NPs can be useful in different biologic research and biomedical applications.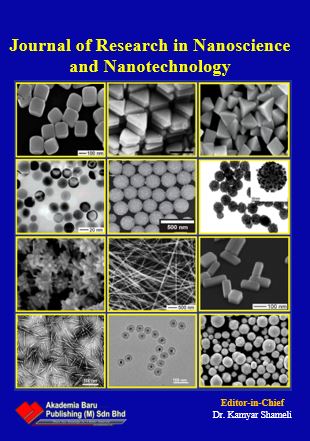 Downloads
How to Cite
Zahra Izadiyan, Kamyar Shameli, Zahra Maghareh Esfahan, Siti Husnaa Mohd Taib, & Pooneh Kia. (2021). Biosynthesis of Silver Nanoparticles Using Juglans Regia Green Husk (Walnut) Water Extract and evaluation Antibacterial activity. Journal of Research in Nanoscience and Nanotechnology, 3(1), 90–102. https://doi.org/10.37934/jrnn.3.1.90102