Green Synthesis of Silver Nanoparticles Using Hibiscus sabdariffa Leaves Extract
Keywords:
Green synthesis, silver nanoparticles, Hibiscus sabdariffa, AFM, TEM
Abstract
The present paper reports the synthesis of silver nanoparticles (Ag-NPs) by a green method using Hibiscus sabdariffa (H. sabdariffa) leaves extract as reductant and stabilizer. The synthesized Ag-NPs were characterized by ultraviolet-visible (UV-vis) spectroscopy, transmission electron microscopy (TEM), atomic force microscopy (AFM) and Fourier transform infrared spectroscopy (FTIR). UV-vis spectrum of synthesized Ag-NPs showed a peak at 378 nm. TEM analysis revealed that the particles were spherical and irregular in shape and has average size around 56.52 nm. This structure and size of particles were confirmed by AFM analysis. The UV-vis and FTIR spectrum provides evidence of the presence of caffeic acid component as a representative biomolecule in stabilising the nanoparticles based on previous studies. Hence, this study advocates that H. sabdariffa have potential for synthesizing nanoparticles.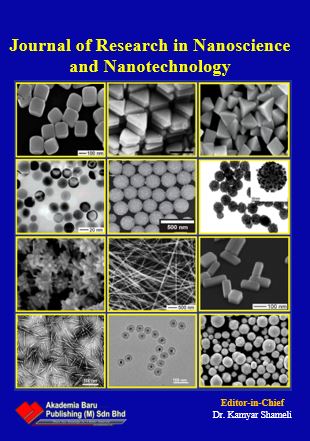 Downloads
How to Cite
Siti Husnaa Mohd Taib, Kamyar Shameli, Roshafima Rasit Ali, Zahra Izadiyan, & Zatil Izzah Ahmad Tarmizi. (2021). Green Synthesis of Silver Nanoparticles Using Hibiscus sabdariffa Leaves Extract. Journal of Research in Nanoscience and Nanotechnology, 3(1), 76–81. https://doi.org/10.37934/jrnn.3.1.7681