Green Route for the Fabrication of ZnO Nanoparticles and Potential Functionalization with Chitosan Using Cross-linkers: A Review
Keywords:
Zinc oxide nanoparticles, Green synthesis, Nanocomposites, Cross-linker, Chitosan
Abstract
Zinc oxide is of significant importance for many industries due to its versatile properties, which have been enhanced with the production of this material in the nanoscale. Recent interest in the preparation of metal oxide nanoparticles using biological approaches has been reported in the literature. This technique known as "green synthesis" is an environmentally benign process than conventional methods like physical and chemical synthesis methods. Zinc oxide nanoparticles (ZnO-NPs) have been successfully obtained by green synthesis using different biological substrates like chitosan. Chitosan is biocompatible, biodegradable polymer having exclusive physical and chemical properties. Chitosan/metal oxide nanocomposite is a promising nanomaterial with enhanced properties for multiple functionalities. Therefore, this review discusses favorable approach in the formation of cross-linked Chitosan/ZnO nanocomposites attracting significant attention in various fields such biomedical due to their unique biodegradable, biocompatible, non-toxic nature. The use of biological sources, fabrication of green synthesized ZnO nanoparticles and its applications is briefly discussed. Overall, this review is a comprehensive study for the synthesis of ZnO-NPs using biological sources counting on their features and applications.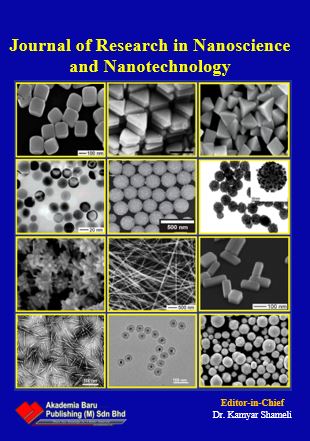 Downloads
How to Cite
Hemra Hamrayev, Kamyar Shameli, Mostafa Yusefi, & Serdar Korpayev. (2021). Green Route for the Fabrication of ZnO Nanoparticles and Potential Functionalization with Chitosan Using Cross-linkers: A Review. Journal of Research in Nanoscience and Nanotechnology, 3(1), 1–25. https://doi.org/10.37934/jrnn.3.1.125