Gamma Irradiation-Assisted Synthesis of Silver Nanoparticle and Their Antimicrobial Applications: A Review
Keywords:
Gamma irradiation, Silver nanoparticles, Antimicrobial, Chemical reduction method
Abstract
This review presents an introduction to the synthesis of silver nanoparticles (Ag-NPs) by gamma irradiation method.  This method offers some benefits over the conventional methods because it provides fully reduced and highly pure nanoparticles free from by-products or chemical reducing agents, and is capable of controlling the particle size and structure. The nucleation and growth mechanism of metallic nanoparticles are also discussed. The competition between nucleation and growth process in the formation of nanoparticles can determine the size of nanoparticles which is influenced by certain parameters such as the choice of solvents and stabilizer, the precursor to stabilizer ratio, pH during synthesis, and absorbed dose. The present review, summarizes the gamma irradiation synthesis of Ag-NPs procedure, advantages, applications and their antibacterial properties.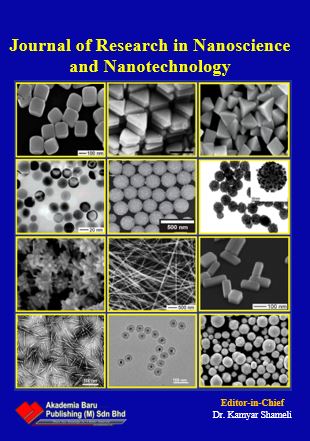 Downloads
How to Cite
Salmah Mossa, & Kamyar Shameli. (2021). Gamma Irradiation-Assisted Synthesis of Silver Nanoparticle and Their Antimicrobial Applications: A Review. Journal of Research in Nanoscience and Nanotechnology, 3(1), 53–75. https://doi.org/10.37934/jrnn.3.1.5375